Kyu Jong se acaba de cambiar la foto de su perfil en Twitter ~~ antes tenia a SS501... pero ahora... es aun mas dioso... porque ha puesto una foto en la que salen SS501 sobre el escenario (cantando Let Me Be The One en el Dream Concert) y las gradas llenas de Triple S con sus luces y globos verdes ~~ animando a los chicos ese dia tan importante (inicio del comeback de Destination y apoyo mas fuerte que nunca tras el reciente accidente de moto que había sufrido el líder), y aparece parte del estribillo de la cancion GREEN PEAS!!!! que mejor combinación puede haber?? Es un claro mensaje,... no se puede decir más claro.... "7 dias a la semana, 24 horas al dia, De Lunes a Domingo por la noche" ~~ SS501 y Triple S ~~ JUNTOS PARA SIEMPRE!!!!!
Fue un dia muy muy emocionante en todos los sentidos... que se pudo sentir el poder verde, el océano verde, mas fuerte y mas unido que nunca!!!!!!
(se puede ver en el MV de Let Me Be The One ~~)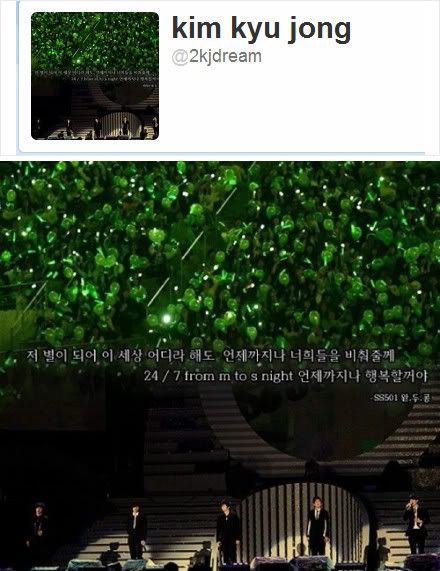 Y ahora Kyu se pone ese recuerdo en su foto de perfil en Twitter.... y a mi es que no me salen las palabraaaaaaaaaaaaaaaas.... TT TT simplemente se me caen las lágrimas de felicidad y el kokoro se me llena de orgullo y calidez extrema ~~ y orgullo verdoso a millones!!!!!!!!!!
y no hay mayor verdad que esta:
SS501 = 5 AS 1 TOGETHER FOREVER!!!!!!
SS501 + TRIPLE S = TOGETHER AS 1 FOREVER!!!!!!!!!!!!!!!
SS501 OS ECHAMOS DE MENOS A MORIIIIIIIIIIIIIIIR!!!!!!!!!!!!!!!
con vosotros siempre ~~
FIGHTING!!!!!!!!!!!!!!
!!!!!
Gracias Kyu!!!!!!!!!!!
nuestro center & lovely man !!!!!!
siempre ahi para ser valiente y recordarle al mundo entero que SS501 existe y es para siempre ~~ y que las Triple S estaremos ahi con ellos para siempre *O*O*O*O*
FIGHTING!!!!!!!!!!!!!!
y que cuando alguien pregunte... que es SS501? eso aun existe?... bueh solo que mire esto... no hay mas que decir el resto hay que sentirlo ;)
Esta imagen es todo un mensaje de parte de SS501 ~~ porque la cancion Green Peas lo dice TODO!!!!!!!!
SS501 es unico.. las Triple S somos unicas... y sobre todo la union entre los dos, ES MAS QUE UNICA Y LO MAS FUERTE QUE HAY!!!!!!!!!!
de verdad que Kyu me acaba de alegrar el dia omg ~~ y lo ha pintado de verde luminosoooo ~~ aawwwh SS501 THE BEST!!!!!!!!!! FIGHTING!!!!!!!!!
credits: @2kjdream + weibo.com/doubles5014ever + maya-chan @ ss501.foroactivo.com (@SS501_SP)